The renowned American rapper, Cardi B expresses how boring life is as a millionaire while longing for the simplicity of her pre-fame and old life in general.
She shared this sentiment on Twitter in response to a fan who questioned why she still portrayed herself as someone from a poor neighbourhood in her music videos.
A Twitter user identified as @Kinggoodtoe made the observation following a music video 'Put It On Da Floor Again' remix where Latto featured her on the song.
The fan quizzed, "Okay last thing when is cardi gonna transition to full millionaire like why are you posing with guns and things in the put it on the floor again remix video 😂😂 who escapes the hood just to relive it every chance they get 😂😂."
Cardi B in response candidly admitted that despite her accomplishments, she still yearns for her previous lifestyle.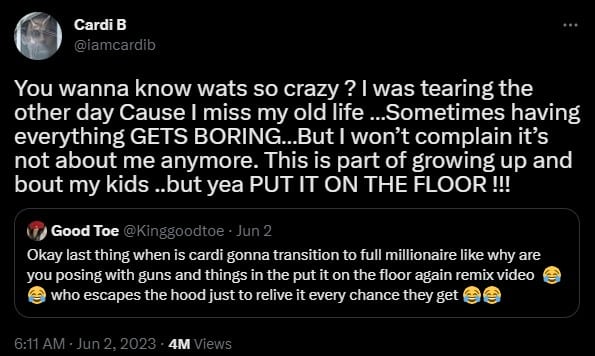 She emphasized that acquiring all desired material possessions eventually becomes monotonous and fails to bring lasting satisfaction.
The hip-hop singer further noted that she recently shed tears while reflecting on her past life, yet she acknowledged that she would refrain from complaining. She recognized that her present circumstances are an integral part of her personal growth and also considered the well-being of her children.
In her words, "You wanna know wats so crazy? I was tearing the other day Cause I miss my old life …Sometimes having everything GETS BORING…But I won't complain it's not about me anymore. This is part of growing up and bout my kids ..but yea PUT IT ON THE FLOOR !!!"